Foxconn to set up electronics manufacturing facility in Telangana with employment generation potential for over 100,000 (One Lakh ) people. Chief Minister Sri K. Chandrashekar Rao along with Foxconn Chairman, Mr. Young Liu announced setting up of electronics manufacturing facilities in Hyderabad. The historic deal has potential to generate employment to over one lakh people over a period of 10 years. Hon Hai Technology Group (Foxconn) and Government of Telangana signed an agreement at Pragati Bhavan, Hyderabad for the proposed facilities.

CM said that the "Government is on a mission to transform Telangana for better and has undertaken several marquee projects to realise the vision of Bangaru Telangana. Foxconn's unit will help in generating large scale employment to youth and will help in attracting more such industries to the State." CM KCR emphasized that Telangana considers Taiwan as a natural partner and that the State is glad to be a part of Foxconn's growth story.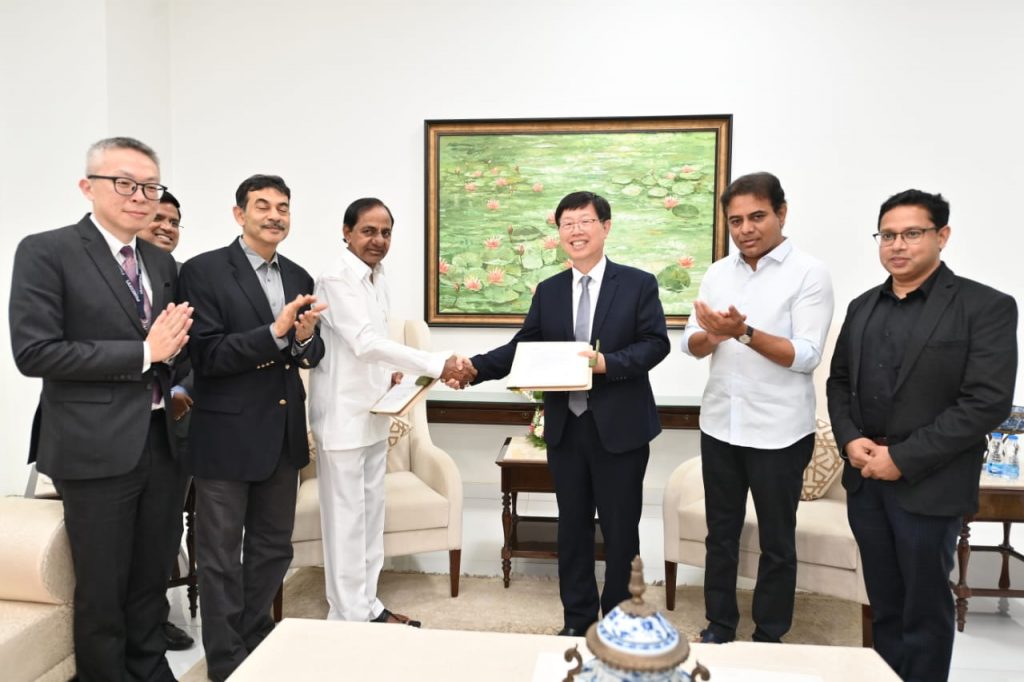 On the occasion of this announcement, Minister for Industries, ITE&C and MA&UD Sri KT Rama Rao expressed happiness that the proposed unit has a potential to provide employment to over one lakh people. CM and Mr. Liu discussed on the importance of diversifying electronics manufacturing for a resilient supply chain and the pivotal role to be played by the State Governments. The Chief Minister said that the government has been successful in implementing a new industrial policy and attracted huge investment in Telangana. CM said that Fox Conn's huge investment and the opportunity to create more than one lakh jobs like never before in Telangana State is commendable. CM said that steps will be taken to ensure that one lakh jobs are available to the local Telangana youth as much as possible.CM assured the Chairman Young Liu that the state government will provide all kinds of support to Foxconn for its operations in Telangana State.
The Foxconn Chairman said that his organization has studied extensively about the state of Telangana. The chairman of Fox Conn praised the friendly industrial development eco system created in Telangana State. Young Liu expressed happiness over the progress achieved by the Telangana state in the industrial sector, especially in IT and related electronics sectors, in a just 8 years. The Chairman said that he is optimistic about the investments of his company in Telangana state.
Since it is Young Liu's birthday, CM himself presented a specially made greeting card to the company Chairman. The Chief Minister extended birthday greetings to Young Liu. After the meeting, CM hosted lunch for the Young Liu delegation at Pragati Bhavan.
Finance Minister Sri T Harish Rao, Education Minister Smt. Sabitha Indra Reddy, Chief Secretary Smt. Santhi Kumari, DGP Sri Anjani Kumar, Ibrahimpatnam MLA Sri M. Kishan Reddy, Special Chief Secretaries Sri Ramakrishna Rao and Sri Arvind Kumar, Principal Secretary ITE&C and Industries Sri Jayesh Ranjan, PS to CM Sri Narsing Rao, Secretary to CM Smt. Smitha Sabharwal. Special Secretary, Investment Promotion Sri Vishnu Vardhan Reddy and Director Electronics & Semiconductors Sri Sujai Karampuri are also present at the meeting.